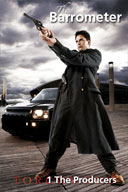 In the US: Sundays, 10pm ET/PT, Showtime
I'm three episodes into Showtime's The Affair, in which Dominic West and Ruth Wilson each tell their side of their affair to a particularly interested bystander (spoiler alert: someone's been murdered and they're both being interviewed by a cop), and it's still relatively easy to summarise: it's outstanding, quality television, intelligent, thoughtful, emotional, incisive – beautifully acted and written.
The show is enjoyably slippery with the truth, with no objective only subjective reality presented, with West and Wilson's stories having either different perspectives or outright contradicting each other, with no real clues unless you watch very, very closely as to who might be lying and when. Even then, there might be double bluffs, meaning we'll have to wait to the end of the series (or perhaps even never) before we find out what really happened.
The writers do a good job of giving us the two sides of the story, although West's is the harder to watch: he's self-obsessed and bitter and the affair (as he describes it) comes more from disaffection, dissatisfaction and obsession; by contrast, Wilson's story is about a woman coming back to life after the death of her son, and feels more joyful as she finds pleasure in life again. How much of that is because Wilson's character is the better liar remains to be seen, though.
But you'll note that I wrote 'three episodes', even though four episodes have now aired, and you'll get a hint of the problem: it's a hard watch. It's rarely joyful or fun. It involves people who probably deserve an Amish-style shunning from society (especially the rich ones). It's also paralysingly slow, taking three episodes before anything really happens. That means it's taking me a week to summon up the enthusiasm to watch each episode. Once I do, I'm glad I did, but it's a real struggle.
So while I do recommend this, as with the likes of In Treatment (from the same writers) and Rectify, I would say be prepared to have to work at The Affair. Whether it's better to save up all the episodes for a binge watch or whether the drip drip drip of one a week will work better for you, only you can say. Certainly, you'll need to be – in the words of many a job advert – a motivated self-starter. But, so far, it's certainly been worth the effort I've put in, even if, being a remarkably lazy, couch potato-like creature, finding that effort has been harder than normal.
Barrometer rating: 1