The Medium is Not Enough is dedicated to finding the best TV from around the world, with daily news, views and exclusive reviews.
There's a bit of a bias towards the latest and greatest US TV, but we also cover Canadian, Australia, New Zealand, European, Scandinavian, Israeli, and modern and classic UK TV, ranging from new Doctor Who to old Z Cars, and BBC Four to S4C.
We also cover TV events run by the BFI, BAFTA and Institut français du Royaume-Uni. Add in competitions and an archive of reviews stretching back 16 years and you've one of the best sites on the web for TV lovers.
Praise for the blog
Fourth most important UK TV blog, Cision/Vuelio Social Media Index
Blogger Running Britain 2013
"For most of us watching the telly of an evening is a way to wind down and relax, but for Rob Buckley it's his blogging bread and butter. With reviews of cult classics and up and coming US and Brit television shows, The Medium is Not Enough is fast becoming essential reading for TV buffs, with over 50,000 hits a month."
Blogging the UK: The Top UK TV blogs
"The Medium Is Not Enough is a light-hearted look at TV, often from the US, but also from the UK. With varied, well-written content, the blog features healthy engagement and features well in search engines."
10 Best Independent Blogs About TV
"I trust Rob Buckley's taste. And if I know more about how television works in the UK it's because of Rob and his outstanding blog. And did I mention his good taste?"
Internet picks of the week
"Billing itself as 'officially the fourth most popular UK TV blog', there are several whimsical regulars here that could help it climb as high as number three…"
Top 50 TV blog
The Medium is Not Enough TV blog has been selected by our panelist as one of the Top 50 TV Blogs on the web. I personally give you a high-five and want to thank you for your contribution to this world. This is the most comprehensive list of Top 50 TV Blogs on the internet and I'm honored to have you as part of this!
​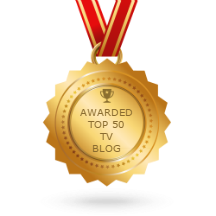 Beyond Downton Abbey, Sherlock and Doctor Who: Know your British TV blogs
Describing itself as "A UK view on the best and worst TV from around the world," The Medium is not Enough gives a British perspective on all things TV. Coverage is focused on, but not limited to, British TV, and includes daily news roundups, reviews, features and more. Great if you not only want to hear about the latest in British TV, but also want to know what the Brits think of America's output.