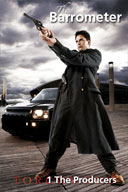 In Canada: Wednesdays, 9e/6p, Bravo
Time to pass verdict on 19-2, Bravo Canada's English-language remake of the French Canadian show, 19-2. Canada's combined answer to Southland, it follows two cops, one a veteran, one a 'rookie' from the countryside, as they patrol the mean streets of Quebec, facing all kinds of problems, ranging from gangs to annoyed Chinese restaurant owners to superior officers and police politics to their own personal demons. 
Now, the first episode was somewhat cliched, full of situations you'll have seen before, resolved in the ways you'd expect, and with characters and dialogue no more original than that. However, since then, things have improved decidedly. While it's hard to actually like any of the characters, the show has now taken them all in reasonably original directions and fleshed them out, giving them nuance, so they no longer fit the comfortable boxes into which the first episode slotted them. The plots have also started to become more unexpected, with aspects of both the season arcs and the episodic arcs taking turns you probably couldn't see coming. In particular, the domestic violence thread in the third episode was both harrowing and challenging.
It's not an easy show to watch, not quite having the right amount of humour to make the misery of the show bearable, although by the third episode, our two colleagues have at least started to have some fun moments together, rather than constantly hating each other. There's still enough cliches bubbling under the surface to make you groan when they rise to the top (of course the tough (only) female cop turned out to be gay). The ensemble cast don't quite gel yet, either, and the dialogue doesn't exactly sparkle.
But all the same, 19-2 is a compelling show and certainly the finest cop show, if not drama, that Canada's produced in a long time. One to watch.
Rating: 1
Rob's prediction: Should run for a good long time