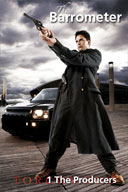 In the UK: Sundays, 9pm, Channel 4
In the US: Sundays, 9/8c, AMC
I have to admit I don't watch much UK TV these days, of which Channel 4 represents a very small amount. All the same I'm going to go out on a limb and say Humans is one of the best science-fiction shows the network has made, perhaps since the hallowed Ultraviolet. Perhaps it's because it's adapted from a Swedish TV show or perhaps it's because it's a co-production with the US's AMC network. Either way, it's very, very good.
Set on a parallel, modern day Earth in which synthetic humans (basically Blade Runner-esque Replicants) have become everyday appliances that can help around the home or take on dangerous or unpleasant jobs, Humans uses that situation to explore our attitudes to technology, what it is to be human as well as what humanity is capable of. What would we do if we could create people whose feelings we didn't have to care about? Would we still consider them human in some way and treat them with respect? Would we use them and abuse them? And what would happen to our self-identities, if we had better versions our ourselves around to look at and compare ourselves against?
While the first episode felt a little bit too much 'made in the UK' and the second struggled a little with pacing, the third was a real blinder, both disconcerting and moving, the audience never being too sure whether to root for the 'synths' that have emotional capabilities or fear them, to cheer for the humans who might be at risk or be dismayed by their lack of empathy.
The show does particularly well at using each different synth to show how we treat a particular human group, with the central Asiatic synth a representation of domestic servitude, an attractive female synth a representation of how we treat sex workers and more generally women, and so on. Each synth brings up the question "How do these groups feel? And what would happen if they took power into their own hands?"
Simultaneously, they make us question our relationships with technology, the power we give it, the benefits it bestows, and even beyond – Rebecca Front's medical synth, for example, is as much a commentary on the power we give healthcare bureaucracies over those in their care, as she is on the need for empathy in those who perform the care.
But as well as being 'good at issues', Humans works well as a drama, too. Katherine Parkinson's working mum has to work out if her new synth really can feel or not, and what position she herself can have in a family where all the traditional tasks of the mother are being provided by someone who's not only better at them but there all the time – and is happy to tell her that to her face.
Colin Morgan's attempts to reunite all the thinking synths while on the run from those who want to learn their secrets is just as interesting, as is his own secret, and William Hurt's attempts to hold onto the memories of his dead wife, trapped within his failing, old synth that Front's come to replace are somewhere between moving and comedic.
While it's still all a bit made in the UK, married with the typical speed of an AMC show, Humans is nevertheless the kind of show that makes you realise all's not lost for modern British television.
Barrometer rating: 1
Rob's prediction: Should hopefully get a second season