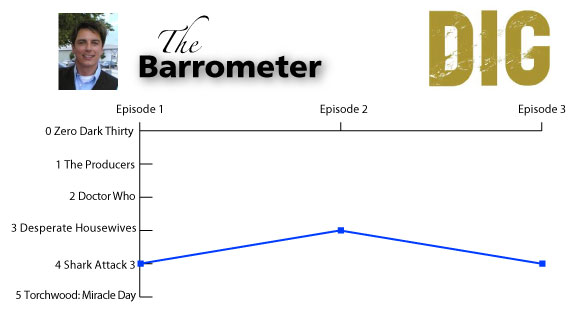 In the US: Thursdays, 10/9c, USA
There's something weirdly fascinating about the USA Network's Dig. The creation of Tim Kring (Heroes) and Gideon Raff (Homeland), it sees FBI agent (hello to) Jason Isaacs travelling to Jerusalem to catch a criminal, only to somehow get embroiled in an Old Testament conspiracy theory that involves unblemished heffers, cloned kids whose feet must not touch the ground and a long-lost priest's breastplate that allowed him to communicate with God. Bringing in all sorts of Jewish mythology in the same way that the similar Touch did, it's nevertheless absolute bobbins in the Dan Brown vein that's only mildly less stupid. 
Since the first episode, we've had all sorts happen but very little get explained, beyond the introduction of yet more conspiracists including Richard E Grant and the pairing of Isaacs buddy-buddy stylee with a sceptical Israeli cop (Ori Pfeffer). There have been plenty of chases, plenty of deaths, plenty of 'revelations' and plenty of biblical references, but nothing yet makes much sense. 
The show has a few redeeming features: the Jersusalem filming and having half the show in Hebrew is lovely; the occasional local touch, such as having Pfeffer pick up his kid while taking a suspect to the police station, makes it feel like one of Raff's shows before he switched to US TV; a strong supporting cast, including Grant, Anne Heche and David Costabile, lift the show above the likes of Allegiance; and having a show that's firmly about Jewish rather than Christian traditions is novel. 
But that's not enough, when faced with Dig's obvious stupidity and dullness. It's just tedious to watch.
Nevertheless, there's something oddly compelling about its strangeness. Normally, with such a high Barrometer rating, I'd have dropped it like so much CSI: Cyber. But for some reason, whether it's just the absolute strangeness of the show, Isaacs or the location filming, I want to tune in for more.
I absolutely under no circumstances would recommend Dig (or anything Tim Kring is involved with) to anyone, but I might well stick with it, right until the bitter end. At which point, I'm sure I'll rue my wasted time. But I think I'll still have seem something different from the usual US TV thriller. And perhaps that's Dig last remaining redeeming feature.
Barrometer rating: 4
Rob's prediction: It's only supposed to last a season and that's all it's going to get