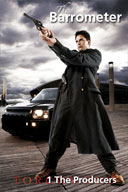 In the US: Thursdays, 10/9c, NBC
In the UK: Acquired by Sky Living
In Canada: Thursdays, 10pm, CityTV
Time to cast an eye over the first three episodes of Hannibal, to see if it's got worse since the first, exceptionally good episode and my tentative recommendation was in error. It wasn't – Hannibal is still awesome.
Episode two was a very slightly inferior affair that picked up the pieces following the second episode and introduced Freddie Lounds to the Hannibal TV universe. No longer a man working for The Tattler, this Lounds is a tabloid web site journalist running Telltalecrime.com – which still has classified ads and the right letters for a certain important aspect of Manhunter/Red Dragon. She's a delightfully evil and ingenious hack and a worthy addition to the Lecter universe. The slight downside of the second episode was a serial killer of the week plot that was slightly silly but thoughtful and riffed slightly on the Red Dragon method of selecting victims – and was also an equal-opportunist who didn't select anyone for sexual reasons.
As well as giving Crawford a chance to show his policing skills, the episode gave us some very chilling moments with Hannibal that showed the key to his frightening capabilities are still his intellect and the inability to hide things from him. And it was great to see some more recycled lines from Red Dragon, in particular the fabulous explanation for why killing must feel good (it feels good to God).
Episode three was a slower paced affair that focused on the victims of the first episode and their families, as well as Hobbs' daughter. It also picked up on the implication of the first episode – that Hannibal had committed one of the crimes – and showed the danger of having invited him to help with investigations. It's also given him a 'helper monkey', which should prove interesting in subsequent episodes.
Always beautiful to watch, always tense and frightening, perhaps a little gorier than it needs to be, the show is still a masterpiece of intelligent TV horror with a great cast, that laughs at the substantially inferior likes of Criminal Minds, Bates Motel and American Horror Story. Watch it.
Barrometer rating: 1
Rob's prediction: Should get picked up for a second season, provided the tough time slot selected doesn't prove to be its nemesis