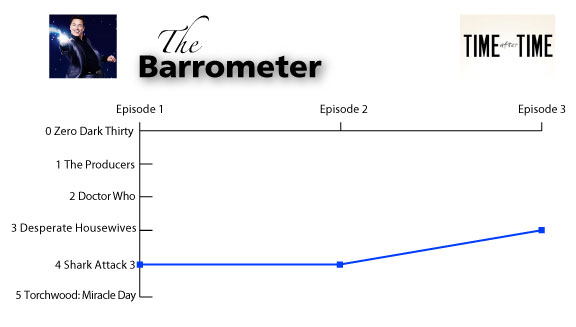 In the US: Sundays, 9/8c, ABC
I ended my review of the first two episodes of Time After Time – Kevin Williamson's reimagining of the 1979 movie in which Jack The Ripper steals HG Wells' time machine and journeys into present day New York, where Wells has to hunt him down – with a prediction. Given virtually the entire movie's script had been exhausted by the end of the first two hours of the show, whither next for the series?
Maybe it'll be "hunt the Ripper" every week or maybe it'll start to explore Wells' other novels… Everything's to play for with episode three then. More of the tedious same or something a bit different. Has Williamson run out of ideas or does he still have some gumption? We'll soon see.
However, we might have to wait a little longer to find out.
Episode three has two strands. The first half hour or so appears to set up Time After Time as the new Forever, with gentlemanly HG Wells (Freddie Stroma) and his quaint oldy-timey manners flirting away with insanely bland museum curator Génesis Rodríguez. Meanwhile, evil Jack the Ripper (Josh Bowman) continues the main theme of the first two episodes, by alternating between making threatening phone calls to Stroma and hacking various people to death. 
The unifying theme between the two? Marvelling at and being perplexed by modern technology, with Stroma delighted by the Internet, cars and talking SatNavs, Bowman excited by iPhones' video capabilities and the burrito-heating properties of microwaves – if only he could find the button to open them.
It's the second half of the episode that changes the show's direction, since it quickly becomes apparent that literally everyone knows who HG Wells and Jack the Ripper are. Everyone. Because he's got a time machine and in the future, he's going to go back in time to their pasts and they're going to find out about that somehow. And keep it a secret from him because he won't know yet. 
Everyone? Really? Yep. That bloke who stalked Stroma in the pilot? He knows. That bloke's mum? Even she knows. 
And that shifts everything. So, we've got some kind of odd conspiracy theory plot for Wells to deal with on the one hand. On the other, something odd is going on with Bowman. It looks like business as usual as he romances Jennifer Ferrin (The Knick, Falling Water, Falling Skies, Hell on Wheels), but then that goes in a very different direction than the one you'd expect.
All the same, despite this slightly surprising bit of plotting, this is still at heart the reasonably stupid, slightly unpleasant show of the first two episodes. As well as inventing the time machine, Wells apparently also invented lasers and quantum mechanics a few years early. Jack can viciously stab someone to death with a kitchen knife and not even wrinkle the suit he's wearing, let alone get it bloody. The two of them speak almost fluent modern New Yorkese, and beyond one or two vestigial Victorian English manners like saying 'please' and 'thank you', appear to have entirely acclimatised through osmosis to modern American manners, too. Before you know it, they'll be tipping a minimum of 20% without anyone telling them to, like some modern day Muad'dibs.
The leads are appealing, the subject matter is intriguing, but ultimately this is a very bad implementation of a potentially good idea. So I won't be sticking with Time After Time any longer to see if it gets better. Or less stabby.