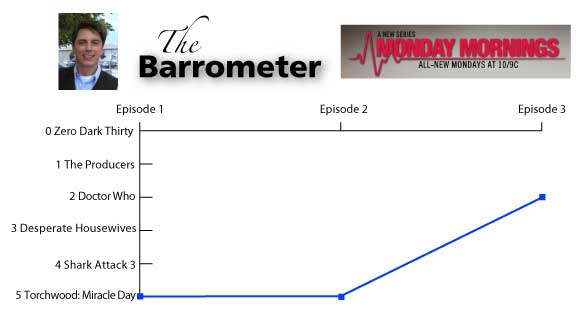 In the US: Mondays, 10/9c, TNT
In Canada: Mondays, 10pm ET, Bravo
In the UK: Acquired by Fox
As we've been (re)discovering recently, US TV pilots are never the finished products. Once a pilot becomes a series, plenty can change: problems can be sorted out, characters replaced or recast, and so on. The Following was the first of the recent mid-season shows to do a serious course-correction, and now we have a second: Monday Mornings, Ally McBeal creator and Wonder Woman ruiner David E Kelley's attempt to diversify out of law shows and into medical shows.
The first episode was, of course, dire, full of mawkishness, ethnic stereotypes, lack of convincing characters, medical insanity and 20/20 hindsight, and some of the worst dialogue on TV since the last David E Kelley show, Harry's Law (it's since been surpassed by Zero Hour).
Worse still was the fundamental pillar of the show: the 'Monday Morning' fault check at 'Chelsea Hospital', where all the decisions made the doctors and surgeons are put under the microscope to see what mistakes have been made in an effort to prevent them happening again. Okay, so interesting to have a show that focuses on doctors cocking up rather than being heroic. But with Kelley in charge, the M&M becomes an almost literal courtroom, with chief surgeon and Brit Alfred Molina wearing a Doctor Octopus wig so that he can act as judge, jury and executioner to all those around him, while the doctors and surgeons also double up as juries, lawyers, defendants and prosecuting counsels. Rather than a learning experience that's all about science and improving process, it's a way to terrorise people, shout at them, and pass liberal judgement on them for not having hearts that bleed in precisely the right amount for precisely the right conditions and precisely the right patients, despite whatever statistics and probabilities would tell you.
The second episode was pretty much the same, in most regards, with the added ludicrousness of an in-story explanation of why Molina decides to shave his wig… sorry, hair off that's even more mawkish than the saccharine dialogue. There was a little ambiguity in the 'court scenes', but it was pretty much a Xerox of the first episode in most regards.
So let's all look a bit surprised with the third episode, which while not a total makeover, did change quite a bit of the show's DNA. Sure, Ving Rhames still has almost nothing to do. Sure, Korean surgeon is largely there to be laughed at for being foreign and having an improbably poor standard of English and social skills. Sure, the female doctors talk about almost nothing about dating and relationships, while the male doctors talk about almost everything except dating and relationships. Sure, Jamie Bamber needs a haircut as much as Molina did.
But whether it was the addition of a co-writer to the story or whether it's a sign of changes in the show, the third episode moved away from making Monday Mornings a show about doctors that mirrors legal dramas and made tentative steps towards making it a show about the intersection between the law and medicine. We had doctors being counselled in risk management techniques designed to reduce the chance of patients suing; we had an interesting philosophical debate about when a patient may (or may not) be able to give informed consent if they are mentally impaired, and how much work doctors should go to to find a proxy; we had a legal deposition on the lengths needed to ascertain whether someone is legally dead.
We also had a decent plot, with a man diagnosed with schizophrenia turning out to have a brain tumour; when it's removed he reverts to the man he was back in 2006. In fact, he still thinks it is 2006. So again, we have a philosophical musing on whether it was right to take an otherwise happy but hallucinating man, and reveal to him that he's lost seven years of his life, which has fallen apart in his absence.
The show obviously still has its problems: unlikeable and uninvolving characters; the siege-like Monday Morning sessions that are more about blame than learning and would have most surgeons running for the hills – or another hospital; the sexism, racism and xenophobia; a tendency towards the melodramatic, the forced, the implausible, the illogical, the unbearable and the pathetic; next-to-zero characterisation or background for anyone beyond how they do their jobs; a tenuous relationship with reality; and dialogue that's got the safety catch off and is ready to kill.
But if it improves as much again in its next episode or at least goes in the same general direction, it'll be well on its way towards carving out a new niche on TV and marrying two normally unrelated genres. Assuming that its ratings get better and it doesn't get cancelled, anyway.
Barrometer rating: 4
Rob's prediction: Will probably be cancelled at the end of the season