Lots of things, albeit quite small ones, have happened since the last WWW, but it's a full quality service I offer here, so I'll do my best to let you know all of them.
We've had the cover of the new Wonder Woman novel released:
Empire magazine has come out and done a feature on the movie, complete with new pictures and not one but two covers: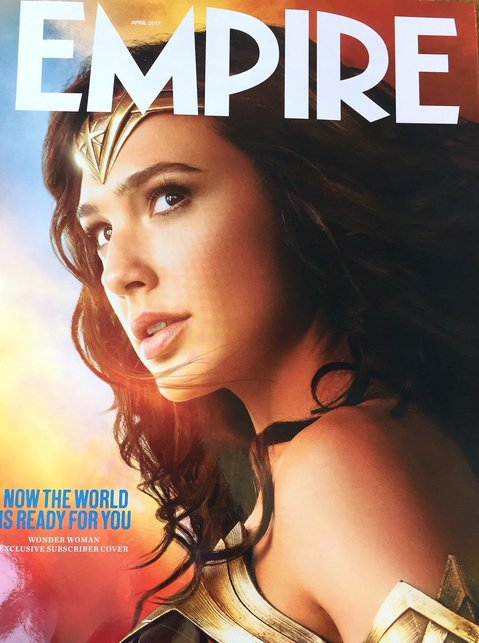 There's been a screening of the movie for fans (spoilers ahoy) and a toy fair has given us our first look at the movie's Big Bad, Ares (who may – or may not – be played by David Thewlis):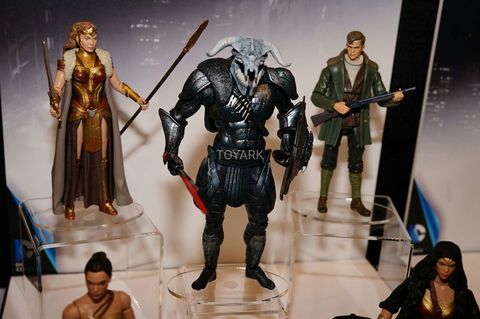 There's also been a new TV spot released for the movie (it doesn't add much, though):
Meanwhile, June 3rd has been declared Wonder Woman Day by DC:
That's the day after the movie is released, mind, so I don't know what's going on there.
And if you fancy helping America's ACLU, Felix Comic Art is selling off a new piece by Cliff Chiang:
After the jump, we'll look (in quite sketchy detail, given my backlog) at the DC Comics that have featured Diana, the Amazon Princess™, over the past two weeks: Trinity #6, Love Is Love, Justice League #15, Wonder Woman #17 and Batman '66 Meets Wonder Woman '77. Two of those feature the (former?) father of Diana, Zeus, but you'll have to guess which ones for now.
I should also mention that the new DC Animated Universe movie, Justice League: Dark is now available to buy. As with rather a lot of the previous DCAU movies, it's intended less as a chance to continue the stories of the Justice League set up in Justice League: War, more as a chance to launch new spin-off series featuring different characters. So while our Diana does make an appearance, it's mainly so she can be tied up with her own lasso, while Batman, John Constantine, Zatanna, Swamp Thing, Deadman, Jason Blood and co go off and do the real work.
If you like Zatanna and Constantine or simply miss The Guyver, it's a must; if you're in it for Diana, you can probably skip it.
Love Is Love
Intended to raise money for the survivors of the Orlando Pulse shooting, this is a collection of mostly single-page stories, thoughts and scenarios dedicated to love, tolerance and LGBT rights. Naturally, this mostly features gay superheroes… and Batman. But our Diana pops up thanks to Wonder Woman regular artist Liam Sharp, who also writes the page:
The next page is surprisingly all about her dad, Zeus, and his pansexual love. 
But that's it for Diana, unless I missed one.
Batman '66 Meets Wonder '77 #7
Basically one big fight between Team Wondy and Ra's Al Ghul's shadow warriors. Eventually, Diana and co are defeated by one of Talia's gas pellets (actually designed to stop Batman from being chopped up by Ra's sword) and the dynamic team end up sinking into the earth in a very Batman ending.
Justice League #15
Plot
The Justice League face 'the Timeless', who believe in rewriting history to prevent the creation of people with superpowers.
What does Diana do?
Hang out with Rhea and Zeus as Cronus eats his children.
Extra notes
The story of Cronus/Kronos eating his children is obviously very important in Greek myth. Cronus himself has often appeared in Wonder Woman, most recently in Brian Azzarello's run. However, his most notable appearance was during Eric Luke's run, when he decides to destroy all other religions with the help of his own version of Wonder Woman:
But we've never had that original story of Cronus' devouring of his children, only for them to be rescued by the young Zeus. Not until now anyway. It's all a bit science-fictiony, though, and the 'eating' is more metaphorical than you'd expect. There's also a slightly Egyptain quality to the costumes and even the gods wear Amazon bracelets, it seems.
As for why the scene happens, I dunno. Suddenly, we're in the scene; suddenly, we leave it. Is it actually happening? Does Wondy really travel back in time to the early days of the gods? Dunno.
Trinity #6
The Trinity continue to fight in the dream world and the real world against the Black Mercy and its dream daughter the White Mercy.
What does Diana do?
Calm down Batman…
…carts the lifeless dream bodies of Batman and Superman around while avoiding the temptation of a very unbearded, unbutch Steve Trevor…
…and use her ability to see the truth to escape from the Black Mercy…
Wonder Woman #17
In which Diana talks a lot to a snake and Barbara Minerva becomes the Cheetah again (although without the nasty god possessing her) to save Steve and Etta. And Ferdinand (for it is he) returns Diana's lasso to her.
(Do you see the juxtaposition in the final page, hey?)
Extra notes
Apparently, a lot of references to Alan Moore's work, including the Wonder Woman-esque Promethea, particularly in the scene with the wrist snake.
At the very least, though, there's a big reference to all manner of previous Wonder Woman outfits:
And Doctor Cyber also likes to dress up like Golden Age Cheetah:
Disclaimer: Owing to the small fortune it would take to buy every single DC comic each week, this is not a guaranteed rundown of all the comics that feature Wonder Woman. If you know of any I've missed, email me or leave a comment below and I'll cover them the following week