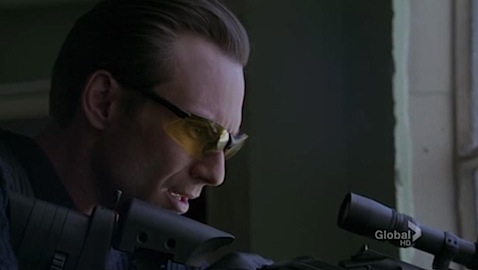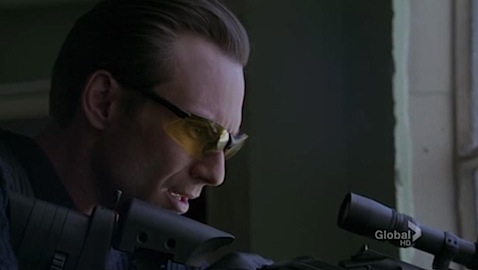 In the US: Mondays, 10/9c, NBC
I can't imagine the NBC planning meeting behind this.
B: "What have we got on Monday nights? We need something in the 10pm slot"

A: "Chuck at 8pm, Heroes at 9pm"

B: "Hmm. Tell me about Chuck"

A: "It's about a guy, a regular Joe, who accidentally becomes a spy"

B: "Huh. Cool. You know – and this is a completely unrelated idea – how about we made a show for the 10pm slot about a regular Joe who accidentally becomes a spy?"

A: "Um. Don't we already…"

B: "No, I won't hear any complaints. Let's commission it!"
So now we have on what turns out to be "Accidental spy night" in the US, a straighter version of the comedic Chuck in which Christian Slater turns out to have multiple personality disorder and one of those personalities is a spy. For real.
I did say it wasn't a comedy, didn't I?
Plot
Executive producer/creator Jason Smilovic teams up with executive producer/director David Semel on NBC's new drama "My Own Worst Enemy," a show that raises the question: who can you trust when you can't trust yourself? Starring Christian Slater ("Bobby") as both Henry Spivey and Edward Albright, "My Own Worst Enemy" explores the duality of a man who is literally pitted against himself.
Henry (Slater) is a middle-class efficiency expert living a humdrum life in the suburbs with his wife, Lily (Yara Martinez, "The Hitcher"), their two kids, a dog, and a minivan. Edward (Slater) is an operative who speaks 13 languages, runs a four-minute mile, and is trained to kill. Albright works at Janus Headquarters for Mavis Heller (Alfre Woodard, "Desperate Housewives"), a tough, extremely intelligent woman with a hidden compassionate side. Henry and Edward are polar opposites who share only one thing in common – the same body. When the carefully constructed wall between them breaks down, Henry and Edward are thrust into unfamiliar territory where each man is dangerously out of his element.
Tom Grady (Mike O'Malley, "Yes, Dear") is Henry's best friend and co-worker with an alter ego named Raymond (O'Malley), a sadistic and violent secret agent. Dr. Norah Skinner (Saffron Burrows, "The Bank Job") is the smart and savvy psychologist who is in tune with the inner workings of both Edward and Henry.
The series is produced by Universal Media Studios. Jason Smilovic ("Kidnapped") is the executive producer; David Semel (director of "American Dreams," and NBC's "Heroes" and "Life" pilots) is the director and executive producer.
Is it any good?
Despite my initial suspicions that this was going to be complete arse the likes of which even Knight Rider couldn't rival, it wasn't that bad. Okay, so the initial premise is basically a riff on The Bourne Identity, but one in which Jason Bourne can't remember the useful spy stuff so has to rely on his best pal Eddie to sort everything out.
Despite this, it tries its best to be serious. We're not exactly in Sandbaggers territory here and the technology is as daft as daft can be – about as daft as the central idea in fact – but there are attempts to make the spy stuff seem more than a bit scary, rather than escapist: we have a near-video game shoot out where our hero gets more and more drenched in blood as it progresses; people get hurt; there are scenes of torture and brutality that leave marks that don't disappear by the next scene; and Slater's alter ego is pretty much a sociopath, and acknowledged as such.
There are also some intriguing matters of philosophy – with two personalities, one of which was artificially created but has been around for 19 years, we're not exactly sure who is the real Henry/Edward or at least which of them has the most right to exist.
I'm not sure exactly where they're going with this. Although the episode itself was quite engrossing, the ending was a bit floppy and disappointing and made me think there was less to the show that there could have been. We also have two actresses, Saffron Burrows and the ever-interesting Mädchen Amick, who have nearly bugger all to do, which is a shame (less so with Burrows).
So worth looking at next week, just to see if they can make a series out of this, I reckon. It's not plausible in the slightest, but if you can buy into the initial conceit and if your only interest is Christian Slater, it's not bad.
Here, in a bizarre bit of promo work, is Chuck's Zachary Levi interviewing Christian Slater, together with clips from the show that give away a lot of the plot.