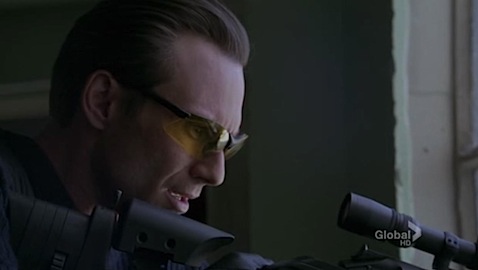 In the US: Mondays, 10/9c, NBC
I can't imagine the NBC planning meeting behind this.
B: "What have we got on Monday nights? We need something in the 10pm slot"

A: "Chuck at 8pm, Heroes at 9pm"

B: "Hmm. Tell me about Chuck"

A: "It's about a guy, a regular Joe, who accidentally becomes a spy"

B: "Huh. Cool. You know - and this is a completely unrelated idea - how about we made a show for the 10pm slot about a regular Joe who accidentally becomes a spy?"

A: "Um. Don't we already…"

B: "No, I won't hear any complaints. Let's commission it!"
So now we have on what turns out to be "Accidental spy night" in the US, a straighter version of the comedic Chuck in which Christian Slater turns out to have multiple personality disorder and one of those personalities is a spy. For real.
I did say it wasn't a comedy, didn't I?
Continue reading "Review: My Own Worst Enemy 1x1"
Read other posts about: Chuck