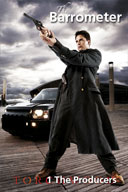 In the US: Mondays, 9/8c, TBS
In the UK: Not yet acquired
If there's anything that Angie Tribeca proves, it's that comedy is hard. TBS's new spoof of police shows, particularly CSI: Miami, but also Rizzoli & Isles and anything with a tough detective who doesn't want a new partner, it's also a 'find and replace' sequel to Police Squad and The Naked Gun. There are often entire gags and formats lifted wholesale from those predecessors and then names and characters simply swapped out. This ranges from the title sequence (someone yelling at the end, with a different reason for the yell each episode, mimicking police squads different guest star being killed at the same point) through to characters repeating lines of dialogue after someone's said "Say, do you…?" 
This isn't a huge problem. Police Squad was hilarious; I don't mind Angie Tribeca being hilarious, even if to be hilarious it has to steal jokes.
And the show frequently is hilarious - after a slightly rocky start, the first two episodes are almost painfully funny at times. But the third episode, which doesn't do that much different from the previous two, is just not funny. Same sort of jokes, same sort of situations, but not many laughs, because you could see the punchlines coming a mile off. It's a show of usually obvious jokes where they're suddenly just a bit too obvious to be funny.
Comedy is hard. Get things slightly wrong and suddenly the laughs aren't coming.
Other than that, there's not much to say about Angie Tribeca. There's nothing profound about it. There's no real story arc, no character development worth mentioning. It's just very funny. When it is. It's just that sometimes it isn't.
Barrometer rating: 1
Would it be better with a female lead? N/A
TMINE prediction: TBS has a lot of confidence in it, having already renewed it for a second season. The TMINE crystal ball can look no further than that
Related entries
February 6, 2016: What have you been watching? Including Okkupert (Occupied), Lucifer and Marvel's Agent Carter
The TV I watched in the week ending Saturday 6th February 2016
February 14, 2016: What have you been watching? Including The Man From UNCLE, Sicario
The TV I watched in the week ending Saturday 12th February 2016
Read other posts about: CSI